Tannoy Kingdom Royal
Bewaar
222x bekeken

9 jaar geleden geplaatst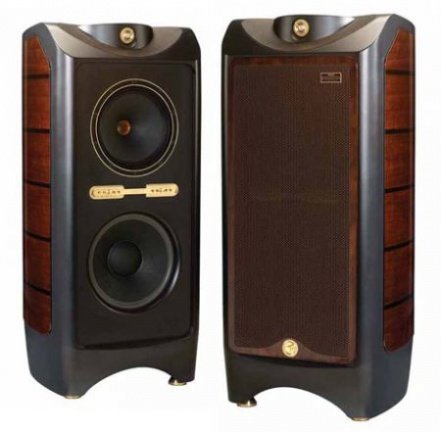 Kenmerken
Levering

Niet van toepassing

Staat van het product

Niet van toepassing

Type advertentie

Aangeboden

Type prijs

N.O.T.K.
Omschrijving
Tannoy Kingdom Royal bij ons demo klaar om te beluisteren!!! Recentlijk heeft Tannoy een nieuw topmodel geïntroduceerd, de Kingdom Royal. Deze luidspreker met een inhoud van maar liefst 160 liter en een gewicht van 120 kilo is uitgerust met een 25mm SuperTweeter™, een 30cm dual concentric en een 38cm LF driver. Met een conische spreiding van 90 graden wordt een perfecte opstelling mogelijk in ieder interieur. In de Kingdom Royal is alle Tannoy kennis verweven die in de loop der jaren is opgedaan. Alleen de beste componenten hebben een weg gevonden naar het innerlijk, alleen het mooiste hout is gebruikt voor de afwerking. The Kingdom Royal is a new flagship loudspeaker representing the sum of Tannoy's rich heritage, cutting-edge technical innovation and world renowned acoustic engineering. A true no-compromise design, Kingdom Royal brings together a new series of Tannoy reference components, a radical new cabinet and the finest quality materials throughout. From the high gloss wood veneer and Italian leather trim to the all-new 12in Dual Concentric™ driver with its cryogenically treated 3in HF dome and compression motor, every component represents the pinnacle of materials, technology and the summit of Tannoy's technical excellence. The result is a triumphant expression of Tannoy itself. Pushing the boundaries of high-end loudspeaker design to new levels, Kingdom Royal offers unsurpassed acoustic performance, ultra-low colouration, high efficiency and musical integrity unmatched by any other loudspeaker on the market today. After four years of extensive research and development, Kingdom Royal brings a wealth of new features and new technologies to the loudspeaker market. The Kingdom Royal cabinet delivers stunning visual form derived from its no compromise function. The massive curve-sided cabinet is constructed from machined high-density fibreboard and birch plywood sourced from cooler, slow growing regions of the world for its superior density and acoustic properties. Built with both vertically laminated sections (the inner fibre-loaded board) and horizontally laminated sections (the outer birch-ply hardwood) and braced with Tannoy's DMT™ material, the cabinet is incredibly rigid despite the immense panel areas. This engineering technique has afforded a very stiff enclosure with high internal volume that allows the deepest bass notes to expand naturally into the room. The sealed SuperTweeter™ enclosure is precision milled from a laminate of high density fibreboard and acoustically separated from the main cabinet enclosure. Tuned and damped by a long process of measurement and audition, the SuperTweeter's performance is further enhanced by a soft dispersion panel set in front of the housing. After trialling a number of synthetic and natural materials, soft Italian leather was selected as the acoustic dispersion panel of choice. The Kingdom Royal necessitated the largest crossover Tannoy has ever produced, being a double-decked design built on boards as wide as the cabinet interior. The entire crossover is decoupled from the cabinet base using an innovative free floating mounting system incorporating rubber suspension turrets and brass rods to separate the two layers. Both upper and lower boards are hardwired using silver-loaded solder and Acrolink's six-nines copper (99.9999% pure copper) cable. The SuperTweeter™ circuit employs 99.997% purity single strand silver cable for its exceptional top end transparency. Tannoy's DMT™ (Differential Materials Technology) compound is used to bed-in components, further improving damping and resulting in greater naturalness and pinpoint imaging. Each crossover uses the very latest ICW ClarityCap MR polypropylene capacitors, low loss laminated core inductors and non-inductive heat sink mounted thick film resistors. For impedance matching, the Dual Concentric™ HF unit uses a custom built autotransformer for greater clarity and top-end articulation than a traditional resistive circuit. Once assembled the entire double-deck crossover undergoes full deep cryogenic treatment to relieve component and conductor stresses at crystal level. Tannoy has left no aspect of the Kingdom Royal unchallenged. Adjustments for the Dual Concentric's Tweeter and SuperTweeter™ energy levels are available using a new low-loss switching panel mounted on the front baffle. For manoeuvring each speaker is supplied on castors but in the final listening position it is coupled to the floor using built in steel cones on the underside of the speaker that couple to substantial gold anodised aluminium feet. On the rear panel the finest WBT™ binding posts are configured in Tannoy's unique five terminal design that affords Bi-Wiring or Bi-Amping as well as direct grounding (via the fifth terminal) for the chassis of the main drivers. Spare HF energy level control pins, spare SuperTweeter™ grille and six-nines pure copper bridging cables are supplied in a wooden presentation box. This Kingdom Royal's top class build quality is complimented with a sumptuous finish that mixes textures and colours in a very contemporary evolution of Tannoy's Prestige loudspeaker range. Traditional wood veneer side panels are finished in contemporary deep gloss lacquer, while the smooth black satin finish baffle complements the gold trim and natural Italian leather. Subtle, sophisticated and classically good looking with the heavyweight weave cloth grille in place, yet bold, imposing and dynamic with the grilles removed, the Kingdom Royal is a speaker that spans stylistic genres with ease. Built in Tannoy's UK factory to the very best engineering and quality standards, each Kingdom Royal loudspeaker weighs 120kg. Drive Units Kingdom Royal is a true four-way design offering unrivalled extension and linearity from sub-bass (below 20Hz) to ultra-high frequencies (over 50kHz). At its heart is an all-new 12in Dual ConcentricTM drive unit that develops Tannoy's long established DC technology to the limits of modern materials and current engineering technology. Some two years in development the new Kingdom Royal 12in Dual ConcentricTM driver is the most advanced coaxial HF/LF driver Tannoy has ever developed. With a new chassis and 10-point fixing, the outer bass/mid driver section mates a revolutionary ultra-light multi-fibre cone and copper clad aluminium edge wound voice coil to a massive ferrite motor system for breathtaking transient response. Its hardedge roll surround has extremely low memory effect which further improves articulation in the mid and upper bass. The crossover to the DC's high frequency unit occurs at an exceptionally low 700Hz to ensure the majority of the vocal region is handled by the new tweeter. This HF drive unit is one of Tannoy's most radical driver designs to date. It couples a 3in heat tempered aluminium alloy dome and waveguide with a 1.5kg ferrite motor to create a true horn loaded compression driver. Each production dome is individually tested and, along with the mated copper clad aluminium voice coil, undergoes full deep cryogenically treatment. This innovative process, involving freezing to -190degC and slowly thawing over a controlled period, relieves residual stresses in the microstructure of the dome and reduces crystal boundary imperfections in the voice coil for greater naturalness and emotional communication of the music. To produce critical musical harmonics well beyond the accepted range of human hearing, the Kingdom Royal SuperTweeterTM uses a high-tech magnesium alloy dome that offers remarkable coherence and near flat extension out to over 61kHz. Each dome is vapour coated with a thin ceramic layer, producing a high internal damping and low colouration, before being meticulously plasma treated by hand and bonded to the voice coil. Combined with a Neodymium motor and rear damping cavity, the new SuperTweeterTM offers outstanding linearity and accuracy, alongside higher sensitivity and wider bandwidth than Tannoy's previous generation titanium SuperTweetersTM. To deliver bass and sub-bass performance to match the new DC and Supertweeter drivers, Kingdom Royal uses a 15in multi-fibre bass driver with massive ferrite motor system and underhung voice coil. The result is significantly lower distortion than traditional large surface area driver designs and class leading articulation down to well below 20Hz. Recommended Amplifier Power: 20 to 600 watt RMS per channel Power Rating: - 300 watt RMS - 1200 watt peak Maximum SPL: - 120dB at 1 metre for 300 watt RMS - 126dB at 1 metre for 1200 watt peak Total Harmonic Distortion: Less than 1% at 300 watt RMS (50Hz to 20kHz) Sensitivity: 96dB for 2.83 volt at 1 metre Nominal Impedance: 8 Ohms Dispersion: 90 degree conical Frequency Response: 24Hz - 61kHz (-6dB) Crossover Frequencies: - 120Hz bass to Dual Concentric™ midrange - 700Hz Dual Concentric™ midrange to compression tweeter - 17 kHz Dual Concentric™ tweeter to SuperTweeterTM Crossover Adjustments: - Dual Concentric™ energy +/- 3.0dB in 5 steps, 700Hz- 17kHz - SuperTweeter™ energy +/- 3.0dB in 5 steps, 17kHz- 61kHz Crossover Type: - Bi-Wired, Hard-Wired passive, low loss. - All connections silver soldered. 99.9999% purity PCOCCTM wiring, except for SuperTweeter™ - 99.997% purity single strand custom silver cable. - Complete assembly deep cryogenically treated. - Free floating isolation system. - All crossover slopes 2nd order, except for SuperTweeter™ 1st order high pass Low Frewquency Driver: - 380mm (15 inch) nominal diameter with treated paper cone. - 75mm (3 inch) diameter voice coil Dual Concentric: - 300mm (12 inch) nominal diameter Dual Concentric™, with 52mm (2 inch) - midrange voice coil and treated paper cone. High frequency 75mm (3 inch) - diameter aluminium alloy dome, deep cryogenically treated SupertweeterTM: - 25mm (1 inch) diameter 64 micron magnesium alloy dome, ceramic coated. - Neodymium magnet system. Plasma bonded voice coil. Cabinet Construction Birch ply and high density fibreboard. Extensive internal bracing Cabinet Dimensions (H x W x D): 1275 x 585 x 600 mm (50.2 x 23.0 x 23.6") Enclosure Volume: 160 litre (5.65 cu.ft.) Enclosure Type: Reflex for bass driver, closed box for Dual Concentric™ Enclosure Weight: 120kg (265lbs) H&C HIFI Onze huiskamermerken: Marantz,Parasound,Tannoy,Quad Wharfedale,Creek,Yamaha,Epos Sa-audio,Audiolab,Klipsch,Boston Denon,Genelec,Beyerdynamic,Sonos Audica,Van den Hul,Rel,Q Acoustics Atacama,Okki Nokki,Creaktiv,Fostex Onze Automerken: Alpine,Axton,Focal,Acr,Kenwood,Macrom Sony,Spectron,Jvc,Cervin-Vega,Jbl Clarion,Zenec,Signat,Emphaser,Hertz Nxs,Rockford-Fosgate,zealum,Pioneer Tom tom,Helix,Xtreme,Audioson,Becker Mtx,Parrot,Eton,Nxs,Rodek,Xzent,Carmin Bury,Hama,Dietz,Dynamat,Bazooka WIJ RUILEN ALLES IN FIETS,TV,MOTOR,AUDIO,BOOT,KUNST,AUTO,HIFI ENZ ENZ VOOR DE BESTE INRUIL PRIJZEN !!! BEL OF MAIL 0478-515215 INFO HCHIFI H&C HIFI Stationsweg 130a 5807 AD Oostrum AAN DE A73 EN GRATIS PARKEREN VOOR DE DEUR openingstijden MAANDAG 12.00 TOT 20.00 UUR DINSDAG 10.00 TOT 20.00 UUR WOENSDAG 10.00 TOT 20.00 UUR DONDERDAG 10.00 TOT 20.00 UUR VRIJDAG 10.00 TOT 21.00 UUR ZATERDAG 10.00 TOT 18.00 UUR Mvgr H&C HIFI
---
Reageer op deze advertentie
Je moet ingelogd zijn om te reageren op een advertentie.